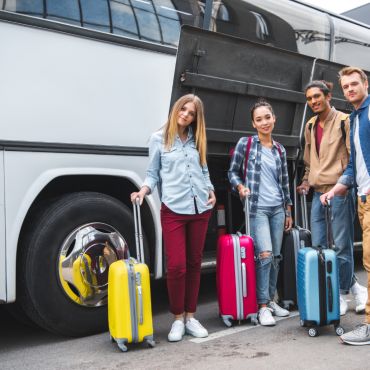 Traveling in groups in Ohio, be it for corporate events, sports teams, family reunions, or educational trips, requires planning, coordination, and a reliable means of transportation. Urban Express Charter stands out as a leader in group bus rentals in Ohio, offering services that are seamless, comfortable, and budget-friendly.
Effortless Booking for Group Bus Rentals
Start your journey with ease. Urban Express Charter offers a straightforward booking process for group bus rentals in Ohio. Now, organizing your group's transportation is just a few clicks away.
Visit the Urban Express Charter website.
Choose the appropriate group bus rental option.
Provide your itinerary details.
Confirm and enjoy the ride.
Onboard Comfort That Matters
Every traveler deserves to ride in comfort. Our group bus rentals in Ohio come with reclining seats and climate control. So, every member of your group can sit back and relax.
Amenities That Make a Difference
Spacious seating arrangements.
Onboard restrooms in larger models.
Entertainment options for a pleasant journey.
Budgeting for group travel just got easier. Group bus rentals in Ohio with Urban Express Charter provide a cost-effective alternative to individual vehicle hire.
Share the expense among the group.
Save on fuel and parking fees.
Enjoy group discounts and special offers.
Tailor-Made Ohio Adventures
Experience Ohio on your terms. Our group bus rentals offer flexibility to create a custom route that suits your group's interests.
Work with our team to plan your stops.
Enjoy the freedom to explore Ohio's attractions.
Modify your itinerary as needed.
Eco-Friendly Group Journeys
Choosing group bus rentals is a step toward sustainable travel. It reduces the number of vehicles on the road, leading to lower carbon emissions.
Less traffic congestion.
Fewer pollutants released.
Contribute to a healthier environment.
Simplifying Group Coordination
Group travel coordination can be complex, but not with Urban Express Charter. Our group bus rentals in Ohio keep your party together, ensuring no one gets left behind.
Coordinate one vehicle instead of many.
Avoid the hassle of arranging multiple meeting points.
Ensure timely arrival and departures for your group.
Safety is not just a promise; it's a practice with our group bus rentals. We maintain our fleet to the highest standards and ensure our drivers are expertly trained.
Regular maintenance checks.
Professional, licensed drivers.
Safety features on all buses.
Inclusive Travel for Everyone
Inclusivity is at the forefront of our services. Our group bus rentals in Ohio are designed to be accessible, catering to all passengers.
Accessible vehicles available upon request.
Additional accommodations for special needs.
A helping hand from our staff, always ready to assist.
Unmatched Customer Service
Experience exceptional customer support with Urban Express Charter. We are committed to making your group bus rental experience in Ohio as pleasant as possible.
Friendly and responsive customer support team.
24/7 assistance for any travel queries.
Personalized attention to detail for every group.
Exploring the Heart of It All
Ohio offers a tapestry of experiences, from the bustling streets of Columbus to the serene landscapes of Hocking Hills. With group bus rentals, discover the diverse attractions Ohio has to offer.
The Rock & Roll Hall of Fame for music lovers.
Cedar Point for thrill-seekers.
The Amish Country for a peaceful retreat.
Final Thoughts on Group Bus Rentals in Ohio
Group travel can be full of challenges, but with Urban Express Charter's group bus rentals in Ohio, these challenges turn into opportunities for an unforgettable experience. Whether it's for a day trip or a long-haul journey across the Buckeye State, we provide the service, safety, and satisfaction your group deserves.